Information About the 1 Ounce Vienna Philharmonic Gold Coins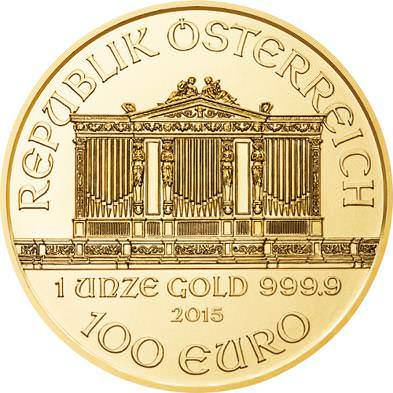 The reverse of the Austrian philharmonic gold coin features the 'Great Organ' located in Vienna's Golden Hall, which is the concert hall where the Vienna Philharmonic Orchestra performs. It carries the inscriptions:
REPUBLIK OSTERREICH
1 UNZE GOLD 999.9
The date the coin was minted
100 EURO or if minted before 2002;  2000 SCHILLING
The Austrian Philharmonic gold coin has a fineness of 9999 (99.99% or 24-karat) and it's been produced by the Austrian Mint since 1989. These coins are made in a variety of sizes including:
1 troy ounce
1/2 troy ounce
1/4 troy ounce
1/10 troy ounce
On our wholesale markets they are only available in the 1 troy ounce size.
The gold Vienna Philharmonic coins are Europe's best selling .9999 gold coins due to its large scale production and legal tender status in accordance to the Austrian Currency Act 1998 (not that you'd want to use it as legal tender as it has a face value of only €100).
It's also amongst the best selling gold coin series in the world, making it one of the most liquid of gold bullion coins in the global precious metals marketplace.
The Philharmonic gold coins have the distinction of being minted and circulated with two different currencies denominations and values. The coin had a value and denomination of 2000 Austrian Shillings from 1989 through to 2001, and from 2002 onwards it has been denominated in Euros. Both denominations have the same fineness.
---