Forgotten or Want to Change Your MetalDesk Password?
The process of getting a new password is simple and straightforward. The steps are as follows:
Click on this link which will take you to the MetalDesk password reset screen asking for your Username/Email.

You will be sent a confirmation email with a link in it. Clicking on that link will take you to another MetalDesk screen where you can add your new password.
Return to the MetalDesk log in page and continue to log into your MetalDesk gold bullion account as normal.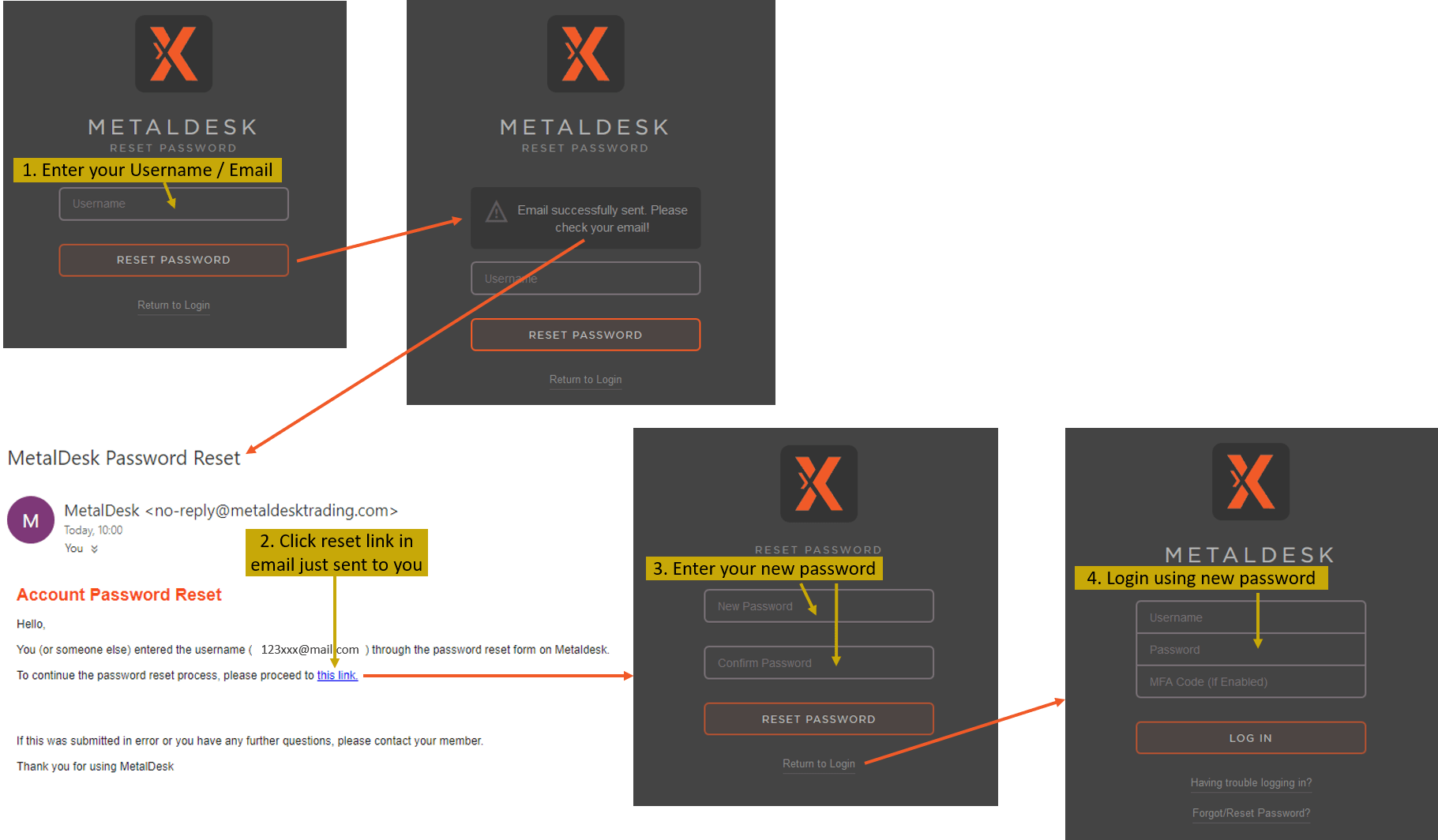 ---

Trouble Logging Into Your MetalDesk Gold Bullion Account?
Login Screen Not Appearing or Nothing Happening After Clicking 'LOG IN'
In virtually all circumstances this is due to an issue with your browser. With all of the different browser software makes and versions out there, it's better to go for the silver bullet solution first, after which you can then work out what the problem was by a process of elimination.
Silver Bullet Solution:
Use a desktop or a laptop (not mobiles or tablets)
Use the latest version of Google Chrome
Still Not Working?
If the above still doesn't work, then whilst using Google Chrome on your desktop/laptop and with the MetalDesk page open in the active browser tab, press Shift and F5 at the same time.
Shift + F5 forces the webpage to reload whilst ignoring anything in your browser's memory, as sometimes that memory/cached information could corrupted and be somehow interfering with the loading & login process.
If the above still doesn't help, then contact us so that we can get the IT department to look into it.
---

Multi-Factor Authorisation (MFA) Problems
The MFA Code is only needed if you have first enabled the MFA facility in the Settings section of your MetalDesk gold bullion account.
If you've activated in your account, then the MFA Code is a code that needs to be provided from your smart mobile phones using an authenticator app in order to complete the log in process.
If you don't have an authenticator app, then for Android phones, good authenticator apps include Duo Mobile and Google Authenticator. For iPhones, try Google Authenticator.
MFA Code Not Being Accepted
If your code keeps being rejected when everything is set up correctly then you need to check the date & time settings on your phone. It needs to be set to "Use network-provided time" – anything else and the authenticator app will be out of sync with the correct time and will cause log in failures.

Lost Your Mobile?
If you are unable to provide an MFA Code because you no longer have access to your authenticator app, then you should contact us to request the MFA Code to be disabled. When doing this you will be asked to answer some security questions and all correspondence must be from your registered email address.
Contact us if you have any other problems.