Choosing Your Strategy
I have based the following gold investment advice strategies on the assumption you want to buy allocated physical precious metals bullion. However, these basic principles can also be applied to other precious metals financial gold investments.
You want to aim to eventually have a minimum of 10% of your total assets in your core holding (aiming for 50% is better as far as I'm concerned, due to the state of the financial system). You want to do this to protect and preserve your wealth.
There are 3 main approaches to investing in physical precious metals. You can choose one or implement all three.
Bulk Purchases
Average dollar accumulation
Trading
Bulk Purchases
This is an intermittent approach to buying bullion that occurs sporadically when you have more cash available to you, above and beyond your normal monthly saving.
Examples include; cash made from selling something such as company stock/house/car, or your time savings deposit coming-to-term and being released for re-investment.

For many people and businesses, the initial purchase into bullion typically involves the investment of a lump sum from their savings / reserves. Don't worry if you have little or none as this is covered in the next part under average dollar accumulation.

Below are the basic gold investment advice steps that you should follow when making a bulk purchase.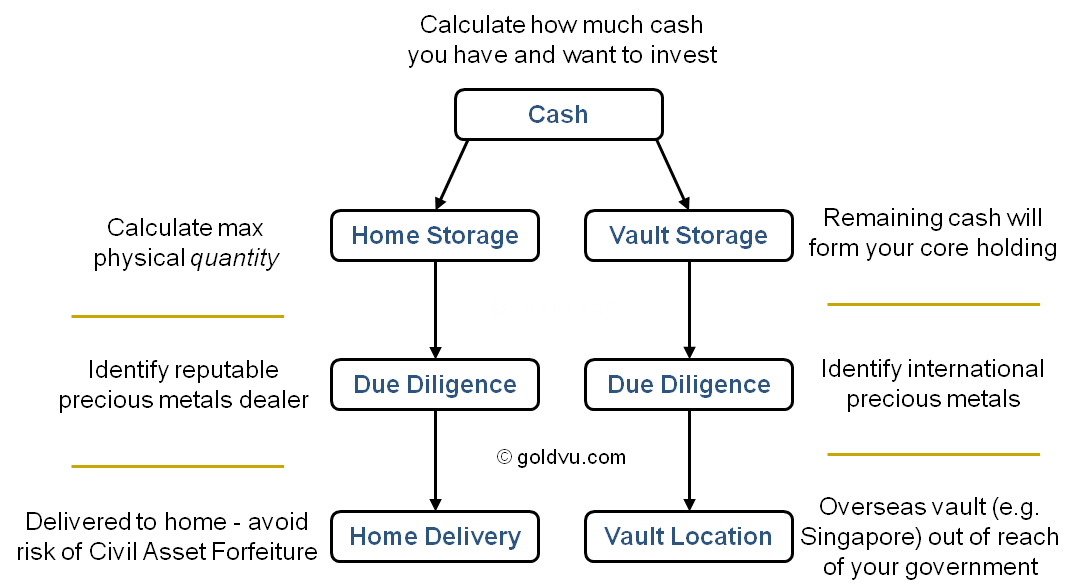 You shouldn't think that you must / should buy bullion for storage at home before using a vault. It comes down to personal preference and the risks you perceive and are comfortable with.

If you feel that it is better for you to first vault the bullion overseas before storing some at home - do it (just be methodical and don't skip the cash calculation and due diligence parts).
Remember when it comes to gold investment advice, you know your needs and circumstances better than I or anyone else! 
As a final note;
Don't take this as a suggestion to dump all your life savings into buying gold or silver (which isn't a bad thing to do) as you should always keep some cash on hand.
If you can, try to keep at least 3-6 months worth of expenses in cash. That way you hold off from touching your home stored emergency bullion for as long as possible.
---
Average Dollar Accumulation
This basically means that you buy your precious metals at regular intervals (e.g. monthly) and is likely to be the most common of our gold investment advice strategies.
These regular purchases would be less in value than the previously mentioned bulk purchases and would typically be what you can set-aside and save from your monthly income.
If you don't have much in the way of savings then the average dollar accumulation method will be a more applicable starting point.
You can accumulate gold and silver by the gram (0.032 of an ounce). 
The first few months of 2015 has seen the following average USD$ prices per gram:
$ 00.53 per gram of Silver 
As you can see, you don't need to be earning much to start buying gold and even less to buy silver.
Contrary to what people say -
Building wealth is not so much about how much you earn it.
It's more about what you do with it.
Whenever you buy your bullion, it will be at a different price. You cannot prevent the price from fluctuating, it won't stop, so don't worry about chasing it. Just focus on buying what you can when you can.
Some months, the price will allow you to buy more metal, other times you will buy less. At the end of the year you will have an average price that you paid for it all, hence this strategy's name.
People can become fixated with trying to time the best point to buy into bullion. Few people have the ability to correctly time that. It also causes unnecessary stress when you miss your target or see a cheaper point of entry after you made your purchase.
The process of average dollar accumulation for bullion should be viewed no differently to how you save some money each month. Instead of keeping cash you keep bullion.
Aside from our fundamental gold investment advice, in case you didn't know, the correct and disciplined way to save is by taking out what you want to save straight after you receive your monthly income. It should happen before you start your daily spending.
Don't wait and see what you have left in your pocket at the end just before you get paid. You will find you've gone and spent it all.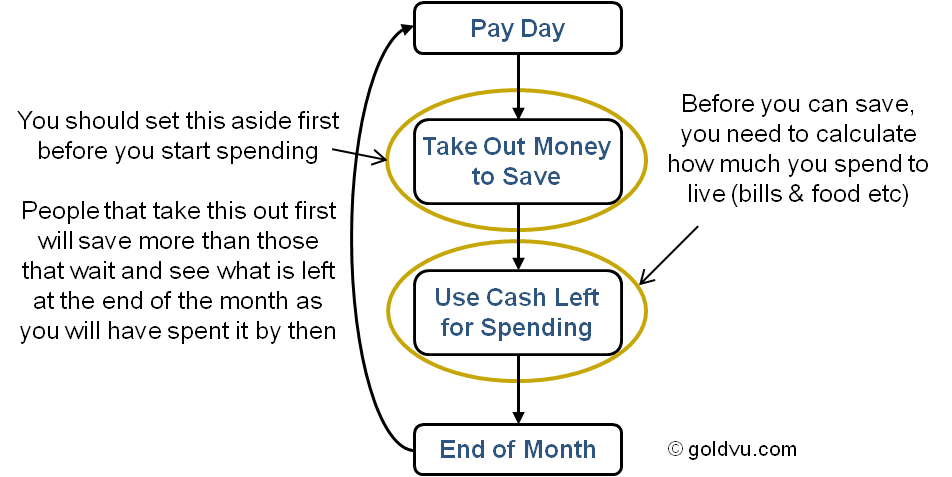 When you buy gold and silver in this way, you should do it at the same time each month.
So if you get paid on the 1st day of the month, buy bullion on the 2nd day of each month.
By using the average dollar accumulation strategy, you:
Steadily build up your total precious metals holdings
Develop a position in bullion you might otherwise not have
Avoid the stress of price chasing
Develop a good and consistent savings habit
---
Trading
I'm not wanting to sound negative, however...most people aren't any good at financial trading. Trading will likely be the least popular of our gold investment advice strategies and it's certainly the most difficult.
From my point of view, if you go around saying that you consistently win at financial trades, it usually means you are either luckier than Forrest Gump, possess astonishingly deep knowledge, an HFT algorithm or are likely committing fraud.
However, many people do and can successfully improve their wealth over time through trading. They just win more in value then they lose.
These are people that:
Create a clear and specific set of trading rules before they start trading
Don't change their rules half-way through a trading cycle
Don't get emotionally involved with the markets i.e. give in to greed or fear
As a part of our fundamental gold investment advice, trading gold is something you should only do after you have first created a solid core holding of physical bullion.

The gold you trade must also sit outside of your core holding so as to not impact it.
For more about trading with gold and the simple rules you should use with examples, read about buying gold as an investment for trading.
As a strategy, trading gold should be the last one on your list to pursue.