Forcing the Choice
By adopting the aforementioned modus operandi, the EU/Germany will probably endeavour to manoeuvre Tsipras/Varoufakis into a position where they appear to have abandoned their pre election promises :-
By agreeing to the conditions needed to secure the 4 month debt extension, which will surely cause internal divisions within the Syriza cabinet, and create a possible popular backlash amongst the general population, OR
Go for an early, and very disorderly Grexit, and hope that Russia and China will provide the necessary support, which from a geopolitical point of view might be prove very attractive to both Putin and Xi.
If the first option is selected then the chances are, that a popular backlash may force a vote of no confidence in Parliament and possibly result in another election, and that will be the end of Tsipras and Varoufakis, and that will ensure the continuation of the current austerity driven status quo, which would no doubt greatly please the Troika, and Germany in particular.
However, such an election may see an even more extreme party elected, which would raise the risk of a Grexit to entirely new levels.
If the second option is selected, it will involve Greece defaulting on its international debts, and being frozen out of the international capital markets. If Greece reneged on its entire sovereign debt such an event would trigger the USD$ 26 Trillion in financial derivatives.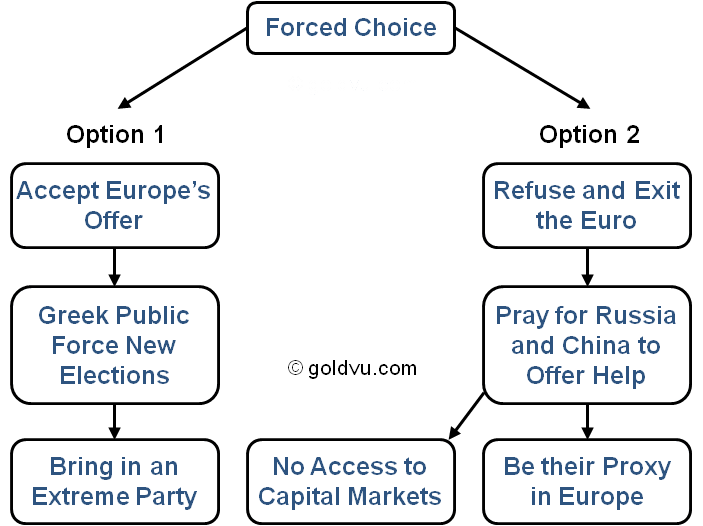 This second option would undoubtedly involve many hardships for Greece, as life would get materially worse before it had any chance of improving.
The severity of difficulties would be dependent on whether or not Russia and China provided suitable support.
Any decent chance of success in the medium/long term would require financial support and commercial assistance from Russia and/or China, as well as quality Greek leadership, vision, a great deal of determination, innovation and discipline (Greece has not displayed of these attributes in recent decades), but as the saying goes "necessity is the mother of invention".
However, the Greeks would at least be masters of their own destiny.