Face Characteristics of the 1oz Silver Eagle American Coin
The obverse of the coin depicts the design of 'Walking Liberty' by Adolph Weinman. It carries the inscriptions:

The coin's reverse has an eagle behind a shield. The eagle is grasping an olive branch in its right talon and 6 arrows in its left talon, whilst holding a ribbon banner in its beak. The coin carries the inscriptions: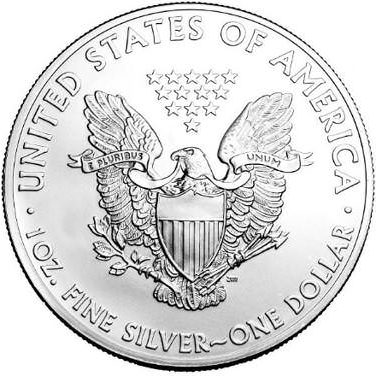 UNITED STATES OF AMERICA
1OZ. FINE SILVER~ONE DOLLAR
On the banner: E PLURIBUS on the left half and UNUM on the right half
The initials JW (designer – John Mercanti) below the eagle's left talon
13 stars above the eagle's head forming the shape of an inverted pyramid
Proof coins carry a single initial of the mint it was produced at
The Silver Eagles were first minted for circulation in 1986 by the United States Mint at its San Francisco mint. The 1 troy ounce coins are minted to a minimum fineness of 999 and are legal tender in USA with a face value of US$1. 
At first the source of silver used for the production of the coins was from the US Defense National Stockpile of silver, and in 2002 a bill was passed by the US Senate that authorised the silver to be sourced from the open market once the stockpile was depleted.
---