Unique Security of the Canadian Maple Leaf Silver Coin
From 2014 onwards the Canadian Maple Leaf silver coin was produced with a special security engraving following its successful launch with the Canadian gold maple leaf 2013.
The security feature is basically a digital image of uniquely minted features that is then registered with the mint, known as its Bullion DNA, against which the bullion coins can be checked. This allows authorised Bullion DNA dealers to verify the authenticity of the silver maples with a level of confidence previously unavailable to the precious metals industry.
The die used to produce the silver maple leaf coin is micro-etched with a laser to create an anti-counterfeit security mark. The mark is a textured image of a maple leaf with the last two digits of each corresponding year of the coin's issue in the leaf's centre. Both sides of the coin are also etched with very thin radial lines.
The authentication involves 3 steps using a specialised device as follows:
The silver maple is placed into the device

The device takes a high-resolution photo of the coin

The Mint matches the taken photo to the stored image on its Bullion DNA server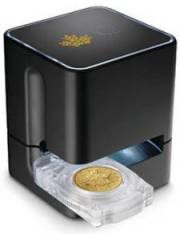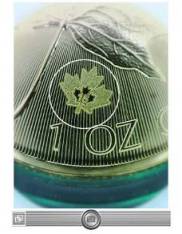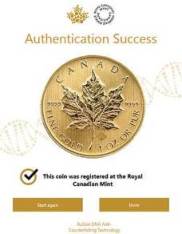 The following video shows more about the coin's unique security features. On our 1oz Canadian Gold Maple Leaf page there is another video showing the device in action:
We have an established and recognised chain of integrity all the way back to the refiners and mints to ensure that your products are true and not tampered with in any way. If ever you buy outside an industry recognised chain of integrity make sure you always verify the coins prior to purchase with a reputable dealer.