Unique Security of the Canadian Maple Leaf Coins
All of our physical precious metals have always been held inside a secure environment and come with documented proof of its chain of integrity that shows its movements all the way back the refinery and mint.
However, the Royal Canadian Mint have tried to take security to a higher level as it knows that many of its coins are taken out a secure chain of integrity and it wanted a way for investors to be able to check the coin's authenticity.
So How Did They do This?
From 2013 onwards the Canadian Maple Leaf gold coin was produced with a special security engraving that is digitally registered with the mint, known as its Bullion DNA. This allows authorised Bullion DNA dealers (currently only North American based only) to verify the authenticity of the gold maples with a level of confidence previously unavailable to the precious metals industry.
Every die used to produce the gold maple leaf coin is laser micro-engraved with an anti-counterfeiting security mark which is a textured maple leaf and in the centre of the leaf are the last two digits of the corresponding year of the coin's mintage along with microscopically thin radial lines on both sides of the coin.
The authentication process involves 3 simple steps using a specialised device:
Step 1. Insert the gold maple in to the device
Step 2. The device takes a high-resolution photo of the coin

Step 3. The DNA server matches the photo to the stored image at the mint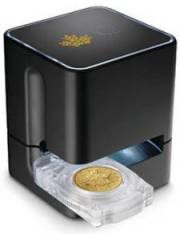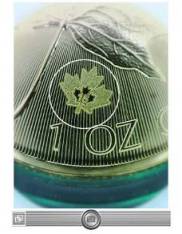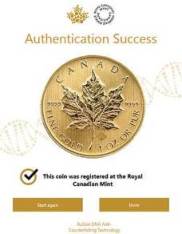 Take a look at the following video to learn more about the coin's unique security: