Buy Silver Coins Wholesale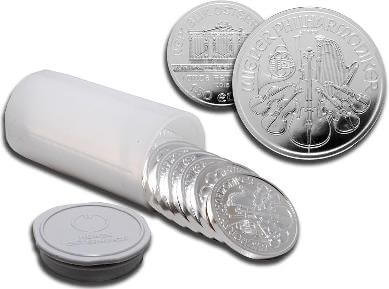 Our global physical precious metals marketplaces are only able to offer you the silver 1 ounce Vienna Philharmonics in packs of 20. These packs of 20 coins are in the same original plastic tubing they were packaged into at the Austrian Mint.
The minimum purchase quantity to buy silver coin through us is due to the institutional wholesale nature of the Allocated Bullion Exchange, which is also why the products you buy through us have amongst the lowest physical precious metals premiums in the industry.
Due to the continuous circulation of these wholesale packs we are not able to offer any guarantees on the year the coins were minted and we also can't tender to any requests for specific years to be provided.
Authenticity and Security
All of our products have been kept within a secure environment and chain of integrity, where its movements can be traced all the way back to the original mint and refiner. This ensures that all bullion traded on the ABX is genuine and not tampered with.
If ever you buy silver coin from someone that exists outside of a well-established chain of integrity, always verify the coins prior to purchase with a reputable dealer that has the expertise and equipment to validate the authenticity of the bullion.