Your physical precious metals investment account is:
Free to open
Requires no minimum balance
Has no monthly management fees
You only need to pay when you are buying gold, silver or platinum bullion (& selling), and storage fees (if you choose to privately vault it with us).
Wholesale Prices & Quantities
You get direct access online  to the largest 7 physical precious metals markets worldwide through our platform MetalDesk, which is the first institutional 100% allocated bullion trading platform created in the world.
Because these markets are institutional and wholesale in nature, you can get among the lowest wholesale prices worldwide for small orders and benefit from the depth of liquidity that is vast enough to cater for the largest of orders.
Protecting You When Buying Gold
The safety of your money and wealth is our foremost concern when you are buying gold. Your account and holdings are as secure as can be made, using the most advanced IT technologies and leading world-class private vaults with unparalleled track records in protecting valuable assets.
Take your first steps here and start protecting your money and invest into physical gold, silver or platinum bullion:

The Opening Process
The simple steps to open your precious metals account are:

Step 1:  Add & confirm your details such as name, email, telephone and address
Step 2:  Upload copies of relevant documents such as photo ID or company certificates
Step 3:  Click on 'Submit'
Step 4:  Tell everyone how easy it is to open an account and start buying gold, silver & platinum bullion (optional, but nice!)
Then just sit back and wait for the verification process to be completed. It can take 2-3 business days to process your application and for your Holding to go live. The opening and verification process is done by Bullion Capital, including the Anti-Money Laundering & Know Your Client aspects.
Once verified, you are under no obligation to transfer funds after creating your account, it will stay open indefinitely with a zero balance. Or, you can start transferring funds to your account where any cash will be kept in a segregated Trust account until you want to buy your precious metals to be privately stored worldwide outside of the banking system. 

Wealth Protection
Physical gold bullion and precious metals provide the best means of safely preserving your wealth for timeless generations. Buying gold and silver bullion allows you to benefit from investing into an asset that will both protect your money and increase in value in times of economic difficulties.
Physical precious metals are ideal for pensions and the safeguarding of your current savings. Please do contact us for more information on how you can benefit from investing through us.
In Case of Emergency - Break Glass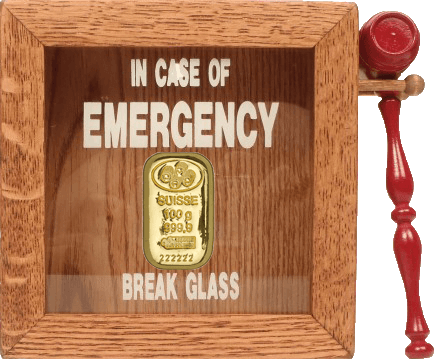 If you want to open an account and have it sitting there empty as a backup just in case of a potential banking emergency, then please do so (I'd recommend that as a minimum action).
In a financial crisis you must already have a backup plan pre-prepared and in place to give you the ability to react faster than the unfolding crisis (and other investors trying to escape). If not, you run the risk of having the markets and panicking public squash you flat, leaving you with little left.
Take the stress away now by knowing you can start buying gold and other physical precious metals at the click of a button.
Don't Wait for a Financial Crisis to Happen Before Acting
Waiting 2-3 days for the Holding to open pending verification, is an eternity that could cost you dearly, so be forward-thinking and get it out of the way now. There is no benefit to you ensuring that you are locked into the banking system without an escape route. Why take the risk of not doing so when you could start the process today? 

Pièce de Résistance
The most common argument against buying gold, silver or platinum bullion, is that it just sits there and does not 'work' for you to generate income. Stocks pay dividends, cash earns interest (just and if you're lucky) but bullion does neither.
This has now changed and that argument no longer applies.
ABX Global leads the global precious metals industry by offering you the ability to pledge your stored physical precious metal bullion as collateral allowing you to raise cash for other use without losing title to your physical bullion.
So, in very basic terms;
You get all of the advantages & benefits of owning physical bullion
You can get capital back to use for investing into other financial assets that can generate income
The physical bullion still remains yours (you just can't do anything with it until the Warrant has been settled)
It's a nice win-win situation for you when you create an account with us.