What the BullionCoin Founding Investor Does
The initial founding liquidity participants will be responsible for buying the first physical gold and silver contracts from the wholesale BCX Primary market, with the intention of then converting them into the 100% physical precious metal backed digital currency, BullionCoin.
Those coins will be the starting liquidity for this new revolutionary currency.
You will then have the option to recoup your capital investment by selling those newly created coins into BullionCoin Network (BCN) secondary retail market.
All of the coins you created and sold into the BCN secondary market will then be used by companies & individuals all over the world to perform trades and transactions outside the banking system.
Lifetime Income in Physical Gold & Silver Bullion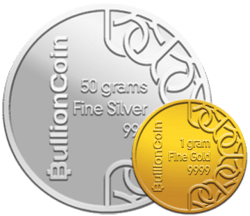 In the BCN, each and every coin transaction or transfer carries a fee which is 0.25% of the value. That fee is charged to the buyer/initiator of the transaction.

The creators of BullionCoins are entitled to a portion of the fee attributed to the specific coins they created.
The revenue from the transaction fees will continue to be paid into your e-wallet for as long as those coins are in circulation (i.e. until redeemed and withdrawn from the vault). There is no time limit placed on how long your revenue will last for, so you and the generations following you could potentially be receiving that precious metals cash flow forever.
In order to attract investors to create that initial liquidity for the BCN, you, as a BullionCoin founding investor, will be offered an extra financial incentive for your participation over and above what the standard primary market participants will get after the founding investment window closes.
That extra incentive comes in the form of a special higher yield rate on your founding investment.